NEXT EVENT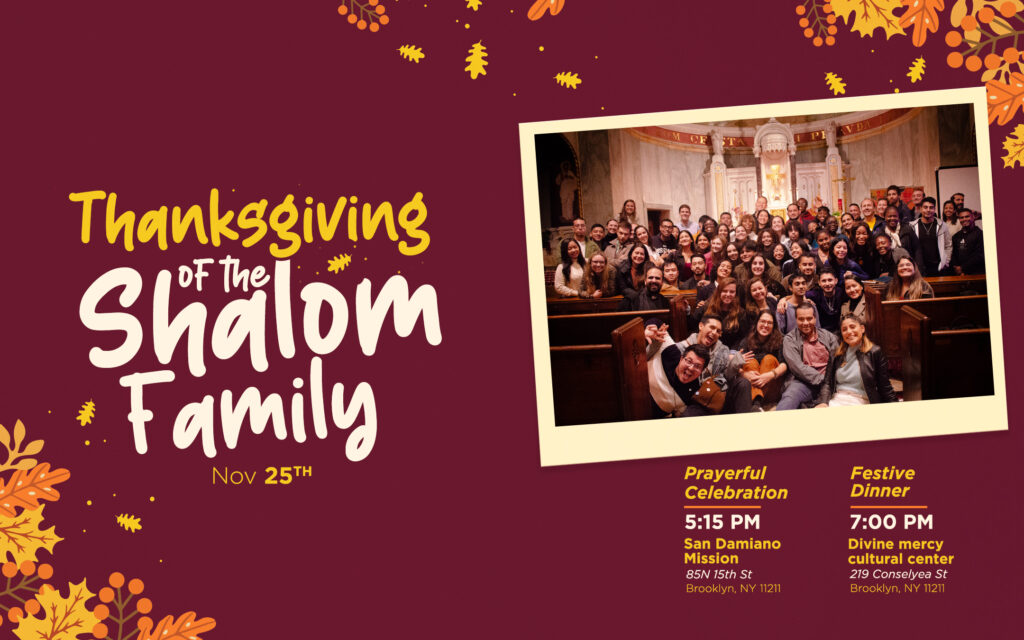 For more information : 347 916 1402 or shalomnewyork@comshalom.org
About Our Church
Our doors are open to all! We offer Holy Mass, Adoration, Praise and Worship Nights, and many other activities to foster unity and community. Our church is part of the Diocese of Brooklyn and since October 2020, is directed by missionaries from the Shalom Catholic Community, an International Association of Faithful recognized by the Holy See. We seek to offer to all the experience of the Risen Christ who passed through the Cross.
Our church building, also known as Holy Family Catholic Church, was founded in 1905 by Slovak immigrants and was renamed San Damiano Mission in 2015.
San Damiano Mission
Roman Catholic Church
85 North 15th St.
Brooklyn, NY 11222
(347) 916-1402
shalomnewyork@comshalom.org
Office Hours Tuesday
to Friday, 2pm-5pm
Masses
Thursdays and Fridays: 6:15 pm
Saturday Vigil Mass: 4pm
Sunday: 12:15pm
Other Services
Eucharistic Adoration
Fridays 9am-6pm
Confessions
By appointment (347) 916-1402 or (929) 391-5713
Prayer Group
Saturday 5:15pm
Special Events
Prayer Group for Young Adults

Every Saturday the Shalom Catholic Community hosts an open prayer group for young adults at 5:15pm. The purpose of this group is to grow in prayer and community support to deepen one's relationship with God through His Word.
Fridays of Intercession

Every Friday, the Blessed Sacrament is exposed from 9am to 6pm with shifts of adoration. At 5:30pm all are invited to pray the Rosary and intercede for all the intentions of the local community, the Church and the world. The day of intercession finishes with Mass at 6:15 pm.
International Parties

We frequently host international parties in the courtyard of San Damiano Mission (the Shalom Park) to welcome new and returning community members to the Church. International cuisine, cultural dance lessons, and moments of joy are shared to foster and enrich our community. Exposition of the Blessed Sacrament is held within the church throughout the evening for moments of personal prayer, intercession, and encounter with our Lord.